10 Things I'd Bet You Didn't Know About Long Beach
Posted by Andy Dane Carter on Monday, August 17, 2020 at 10:49 AM
By Andy Dane Carter / August 17, 2020
Comment
Incorporated in 1897, Long Beach is California's seventh most populous city and the United States' 43rd most populous city. It is within the Los Angeles metropolitan area in the heart of Southern California and is called a giant waterfront playground and a place with a tremendous choice of activities, attractions, museums, sea and animal life, live human performances, and an active nightlife.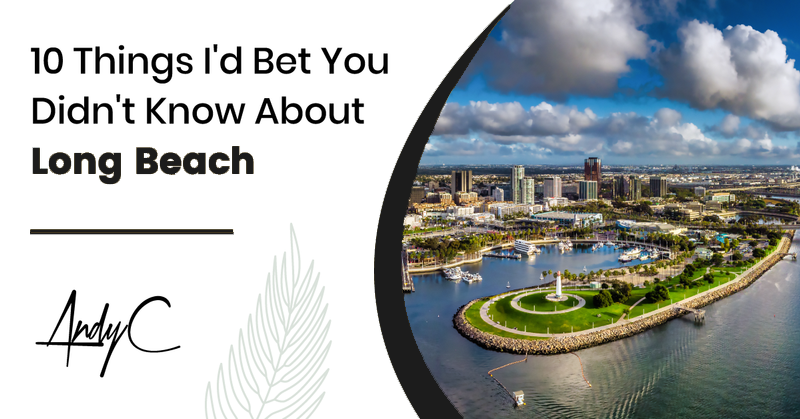 Some of the interesting facts and destinations are the following:

1. Aquarium of the Pacific

This public aquarium opened on June 20, 1998, on five acres on Rainbow Harbor across the water from the Queen Mary Hotel and Attraction and the Convention Center. It boasts of having over 12,000 animals, 500 species, its largest tank holding 350,000 gallons of water, and offering more than 100 exhibits such as Shark Lagoon, Lorikeet Forest, Penguin Habitat, and many more.

2. The Queen Mary

Celebrating 40 years in the city, this 1936 legendary and historic ocean liner and World War II troopship, having had its final voyage in 1967, has become an attraction and a fine hotel with spacious and elegant first-class staterooms, restaurants, restored original areas, original artworks, authentic art deco decor, exhibitions, and tours.

3. Port and Cruise Terminal

The Port is the second-busiest seaport in the United States. The terminal is laid out very well, the terminal boarding schedule is most accommodating, and embarkation is found to be easy and quick.

4. El Dorado Nature Center

The beautiful nature center has two miles of quiet and serene scenic paths where you may see ducks, geese, white herons, birds, turtles, and perhaps a cottontail rabbit. This getaway is in the midst of a busy urban L.A. area with two lakes and a small forest. You have to pay for parking, but the entry is free.

5. Spruce Goose

It has its reputation of being the laughing stock of the aeronautics history. During World War II, the U.S. government commissioned Howard Hughes and his Hughes Aircraft Company to develop a huge aircraft that could haul a large number of soldiers and equipment and be able to float on water. Because of wartime steel restrictions, the plane was constructed from laminated wood, which is where the "Spruce" part of the name came from. The frame had eight propeller engines and ran up $23 million in its costs of development. It took so long to make that the war was ended by the time it was completed! Congress demanded that the plane be demonstrated, and a flight test was held in Long Beach Harbor on November 2, 1947. The Spruce Goose had various problems, flew only a mile before landing, and never flew again. It was kept in a climate-controlled hanger that cost $1 million a year and was then moved to McMinnville, Oregon's Evergreen Aviation Museum.

6. Japanese Garden

The Cal State Huntington Library's Japanese Garden is one of L.A.'s most picturesque and lush gardens. Introduced in 1981, it had taken more than three years of planning by its principal architect, Edward Lovell, who took repeated research trips to Japan. The garden contains botanical wonders and is anchored by a pond with koi fish.

7. Carousel

Historic Carousels, Inc. has been operating a Herschel Spillman Carousel and a 90-foot Ferris Wheel at The Pike since 2005. The Carousel is a classic built of wood in 1920 with a portable three-row machine, 30 horses, and the Mother Goose and Uncle Sam Chariots. It has a connection with the birth of Disneyland because Walt Disney used to take his children to the merry-go-round at Griffith Park, the carousel inspired him to build his own themed entertainment complex, and the horses at Disneyland's King Arthur's Carousel also have names. A fire destroyed the carousel in 1943, and The Pike later closed in 1979. However, today, Looff's Lite-A-Line is a museum that is dedicated to the amusements from The Pike.

8. A Treasure Trove Of Art Deco Architecture

The devastating 1933 earthquake enabled an Art Deco playland. Because of the earthquake's $50 million in damages, it actually created a clean slate and attracted a new generation of talented architects who had been inspired by the 1925 Paris International Exhibition of Modern Decorative and Industrial Arts. The city passed new laws to guarantee structural safety, and Art Deco became a suitable style for buildings that were built of reinforced concrete and needed decorations in their architecture.

9. Sharks, dolphins, harbor seals, sea lions, and more

A variety of marine life can be spotted just feet off the shore of Long Beach where numerous two or three-hour excursions depart on perhaps a double-decker catamaran with 360-degree views and bow seating. The captain or an onboard naturalist will narrate about native sea life, as well as how best to spot the tail slaps and blows that indicate nearby whales. The whales include the blues which are the largest mammals in the world, the Pacific grays, the humpbacks, and the killer whales which are named orcas. The sharks include the great whites.

10. Downtown Food Walking Tour

An example of a three-hour one-mile tour from 11:00 AM is one that will likely take you with a tour guide to perhaps a seven-course progressive tasting menu of fresh local cuisine with all the food tastings providing enough for lunch. Included might be the perfect pizza, a fish grill, authentic Greek cuisine, a Pie Bar, Mediterranean bites such as baklava, a perfect cup of Recreational Coffee, a cold-pressed juice bar, and even a gift shop/art space with handicrafts by local artisans.

The above interesting facts and places are just a sampling of what this city has to offer to the delight of its residents and visitors.