Best Breweries To Grab a Craft Beer in Long Beach
Posted by Andy Dane Carter on Monday, November 2, 2020 at 9:56 AM
By Andy Dane Carter / November 2, 2020
Comment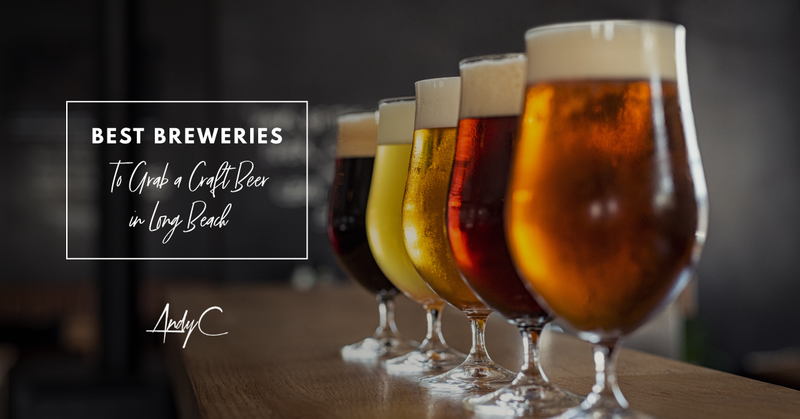 What goes best with a relaxing walk along the coastline in Long Beach, California? How about an ice-cold craft beer made at a local brewery? These breweries in Long Beach are famous for their aged beers with a variety of flavors, ranging from sweet and chocolatey to tart and crisp. If you're new to the Long Beach area or looking to try something a little different, here's our ranking of some of the best breweries in town.


1. Phantom Carriage Brewery

With an extensive menu of beers ranging from tart to sweet to fruity to dry, you'll never be bored when you visit the Phantom Carriage Brewery. Enjoy a drink in their cozy taproom or sit on the patio and enjoy the fresh air. If you get hungry, they sell sandwiches that are smoked in-house with hickory chips. Pair your beer with a kimchi burger with portobello mushrooms, a french dip burger with brisket, or savory Appalachian-style barbecue.

As for the beers themselves, their menu includes dark toasty beers like Dolores, herbal beers like London After Midnight, and sweet beers like Funny Games. Their beers come in singles as well as four-packs. Drink a beer on the patio or grab a beer to go before you resume your adventures in Long Beach.


2. Ballast Point

There's a reason that Ballast Point is one of the most famous breweries in Long Beach. This brewery offers a stunning view of the coast, so you can sip your brew and watch the waves crash against the shoreline. Rent out space for a private party, or sit back and relax at the end of the day with a couple of friends. This brewery offers a full restaurant, so you can grab dinner along with your favorite craft beers. Enjoy sizzling burgers, freshly made tacos, and appetizers made from seafood caught at the California coastline.

If you're new to Ballast Point, this brewery offers a "Discovery Series" of accessible ales that please a number of palates. Try a classic ale like the Longfin Lager, or something fruitier like the Mango Even Keel. if you're looking for something bolder, the "Explorer Series" offers more eccentric ingredients and flavors. Try a sour blackberry ale or a smooth peanut butter porter. They also have a "Flagship Series" of iconic brews that are available all year round. Every visit to Ballast Point is a unique experience that's sure to be even better than the last.


3. Ten Mile Brewing Co.

This family-owned brewery was started back in 2011 by a father-and-son duo. In the past several years, it's grown into a full brewery company with a team of dedicated employees. Every craft beer on their menu is made from wholesome, all-natural ingredients for unparalleled taste and quality. You can stop in and grab a beer to go, and pick up some Ten Mile Brewing Co. merchandise while you're at it. When you visit this taproom, you're contributing to a family business that might be passed down to future generations.

They offer a wide selection of beers, from the fruity Citrallenial to the bitter Trail Marker to the dry TM Lite. Grab a beer, sit down, and relax at their welcoming taproom made from wood gathered in the California forests. You can sit and hang out with friends, or grab a four-pack of beer to go and enjoy the Long Beach scenery. They always have something new on tap, so drop by and see what's in store! You might just find your new favorite beer at the Ten Mile Brewing Co.


4. Trademark Brewing

Food, fun, and a tall glass of foamy beer: it's all here at Trademark Brewing. While they don't have an in-house restaurant, food trucks frequently visit this brewery, so you can grab a snack or two while you enjoy a delicious craft beer. They offer classic ales as well as their own unique spin on beloved flavors. When they fill your glass, the foamy, amber-colored beer almost looks too good to drink! And the warm, inviting taproom enhances your beer drinking experience. Whether you're looking for a casual hangout or a romantic place for your date night, Trademark Brewing is the place to make memories you'll treasure for a lifetime.

Their menu includes the hearty 405, the refreshingly fruity A-Line, the tropical A La Playa, and the sour Gem Tones. You can also enjoy hoppy craft beers like the smooth Keyboard Warrior and the zesty Superdisc. And for a truly unique treat, try one of their specialty drinks like the rich chocolately Nitro. They also plan to start selling barrel-aged beers in the future. Whether you're looking for a dry, sour ale, or a pleasantly fruity drink, you'll find your favorite flavors at this Long Beach brewery.