Homebuyers in Long Beach: Read This Before You Have A Home Inspection
Posted by Andy Dane Carter on Friday, February 5, 2021 at 10:34 AM
By Andy Dane Carter / February 5, 2021
Comment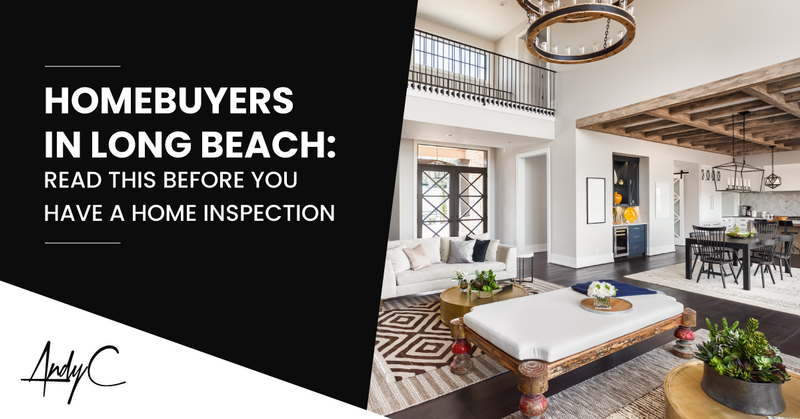 Long Beach, California is a beautiful area with many beautiful attractions and views in California, and these many features draw homebuyers in all the time. Despite this beautiful area, it is important to have a home inspection before you officially purchase any home to ensure it is safe for you and your family. There are many important questions that homebuyers in Long Beach should ask home inspectors in order to ensure their safety. Continue reading below to learn more about the things you must ask during an inspection before you purchase a home in the Long Beach area of California.


What Will Be Checked?
It is first important to understand what exactly will be covered during your home inspection. Ask the inspector what features are covered under the home inspection, ensuring that you will have the most important things checked when considering safety. Another thing to note is that you can ask,
"what will not be checked" so you can gain an understanding of the inspection process.


Do You Have Any Examples or References?
It is important to understand exactly how long a home inspector has been working in the business in order to understand if he or she knows what to check. You can also ask for example home reports that give you a clear view of the information that will be provided. Finally, consider asking for references to better understand the jobs that this individual has done in the past. This will help you feel more confident that the home inspector you hired will be there for you and your loved ones throughout.


Ask for Clarification
During the home inspection, be sure to ask for clarification when needed about issues that the inspector may point out. Make sure you understand whether any issue that exists is minor or major, and consider whether this will affect your decision to purchase the home. Be sure to ask the inspector what he or she would be concerned about as well as they are the experts in the field and will know if the home is safe.


What Repairs are Needed?
After the home inspection, though a report will likely be provided, you should ask the home inspector to describe any repairs that are needed on your new home. This will give you a clear understanding of what the home is worth. If the home inspector has some issues that you are not sure about, you could also call for a second opinion after receiving this information.


What is the Cost of Repairs?
When you have the list of the repairs that will be necessary on your new home, it is important to get a rough estimate of the costs associated with them. Make sure that no costs associated with the repairs are deal-breakers so that you are not getting into more than you can financially handle. The home inspector may not be a contractor, but he or she will be able to give you a rough estimate of the costs. This will help you to budget, and you can even ask the current homeowners to make the repairs before you move in.


Final Thoughts
There are many important aspects to a home inspection, including the area of Long Beach, California. This area is known for beautiful homes and stunning views, but it is also prime for the same concerns that many homeowners face throughout the United States. A home inspection can help you to fix potential problems that you may face in your new Long Beach home before you move in. You can also determine if your new home is truly worth the costs that are associated with it, and if not, contact a realtor to help you find your dream home.