Pro's and Con's of Owning Vacation Rentals In Long Beach
Posted by Andy Dane Carter on Monday, August 3, 2020 at 9:47 AM
By Andy Dane Carter / August 3, 2020
Comment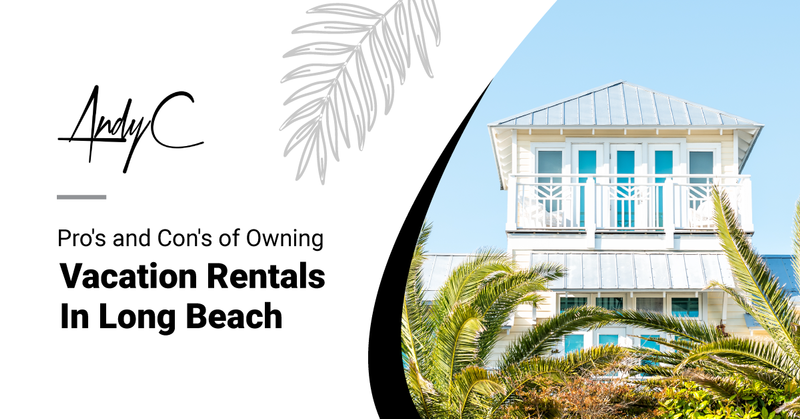 The Long Beach, California area has always been considered a great place to visit or live. When you are in this area of California, you can enjoy the beautiful weather, plenty of great restaurants and other entertainment options, and access to the beach. due to all of these amenities, it can a place to own a vacation rental. Before you decide to purchase a vacation rental home in this area, it is important to consider all of the pros and cons that will go along with it. There are several advantages and disadvantages in particular that need to be thought about.

Great Place to Visit
One of the reasons to own vacation rentals in Long Beach is that it will provide you with a great place to visit at all times. While rental properties can be leased to other individuals, it is still a great place that you can use when you are not leasing it out to someone else. This will give you a place to enjoy at all times of the year, which will also give you a convenient and affordable vacation destination.

Year-Round Demand
Another reason to get a vacation rental in this area is that you will have demand for it all year long. One of the issues with vacation rentals in other areas of the country is that there is only a limited period of time in which you will have demand. Since this area of the state continues to have great weather and outdoor activities all year long, you will always be able to find someone that wants to rent it from you. This can boost your potential rental income and make it a great investment.

Tax Advantages
Another benefit of owning a rental property here is that it can come with a variety of tax benefits that are not provided to other real estate owners. When you own a rental vacation property, it is essentially taxed like it is a business. While you will have rental income coming in, it can be offset on your taxes by all of your expenses including maintenance, interest, and management fees. You can also offset taxable income by non-cash expenses including depreciation.

Great Mortgage Rates
Today, mortgage rates on second homes and investment properties are incredibly low. Similar to any other real estate loan, you are going to be able to get one of these lowest interest rates on these mortgage products. This can greatly help you offset your monthly expenses and even allow you to afford a more elaborate property.

Expenses Upfront
While there are plenty of benefits that will come when you own a vacation property, there are some disadvantages as well that you need to think about. One of the disadvantages is that there can be a significant expense upfront to get the property. Normally, vacation properties will require you to have a larger down payment than you would with traditional homes. Further, you will need to have money to make the necessary improvements and furnish the home in order to rent it out to others.

Challenges with Management
Whenever you purchase any type of investment property, there is going to be some level of management that goes along with it. One of the issues that you could have with purchasing a vacation property is that it could be located rather far from your home. This could make a challenging for you to run over to the property to make a repair if you have a tenant in. Fortunately, Long Beach has plenty of management services that could handle this work for you for a fee.

Leasing Limitations
When you are going to purchase a property that you intend to rent out to vacationers, it is very important that you carefully consider all of your options. Depending on where your home is located, you may need to abide by rules set forth by a condo association. These could limit your ability to lease the property to vacationers. Further, there is also a risk in the future that an association could vote to change the rules and prevent you from leasing the home to others.

Ultimately, owning a vacation property to lease to others is a great option for those in this area of California. If you are looking to invest in vacation rentals, it is important to consider the pros and cons that go along with this form of investment. By taking all of these factors into consideration, you will be able to determine whether buying a rental property is a good option for your situation.