Top 5 Ice Cream Shops That The Locals Rave About
Posted by Andy Dane Carter on Tuesday, October 27, 2020 at 12:23 PM
By Andy Dane Carter / October 27, 2020
Comment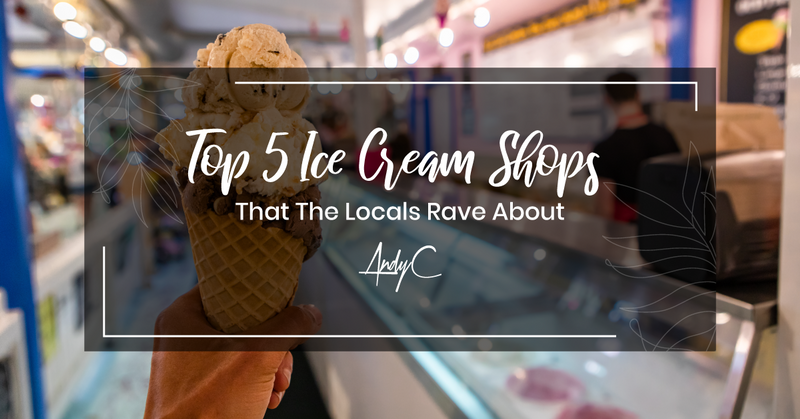 When you were a kid, you'd probably eat any brand of ice cream that was placed in front of you. Now as an adult, you probably have a more refined palate. Thankfully, your ice cream shops have grown up along with you. With these Long Beach ice cream shops, ice cream isn't just a snack or a diversion--it's a sumptuous treat that you'll crave when you're working in the heat or walking along the beach in the evening.

From classics like strawberry and vanilla to creamy gelato and vegan ice cream, you can find just about every flavor and variety in Long Beach. Here's our ranking of the top 5 ice cream shops in Long Beach, California.


1. Popbar
If you've never tried gelato before, it's an Italian form of ice cream that's richer and creamier than the American version. Most places sell gelato by the pint or the scoop. Popbar takes it a step further by offering delicious gelato popsicles on a stick that you can enjoy while walking along the beach. They offer over sixty flavors, including banana pudding, passion fruit, green tea, and much more. If you're not a fan of gelato (but who wouldn't be?), you can get sorbet or frozen yogurt on a stick instead.

Once you've chosen your flavor, you can customize it with a dip of chocolate sauce and a variety of toppings at their topping bar. Spruce up your dessert with caramel corn, crushed nuts, sprinkles, and much more! They also sell other treats like gelato shakes, ice cream bites, gelato sandwiches on a stick, hot chocolate, and waffle pops for people who aren't a fan of ice cream but still want to join in on the fun.


2. Rori's Artisanal Creamery
Rori is a real person--and she's the brains behind this entire operation. Their ice cream is made with fresh ingredients like real milk and cream and mixed with her special recipe. Everything in the store is handmade by Rori and her team. Their milk is sourced from local farmers in the Long Beach area, as well as the fruits, nuts, herbs, and other ingredients that go into their ice cream. It's cold and delicious, and once you've tried this brand, you might find it hard to go anywhere else.

Rori's offers a range of ice cream flavors, including brown sugar banana, fresh mint patty, milk chocolate chunk, and much more. They also sell cakes and brownies that are made fresh at the store every day. You can also buy custom cakes for your upcoming parties and celebrations.


3. Hug Life Ice Cream
In the past, finding vegan ice cream in the grocery store was nearly impossible, and vegan ice cream shops were practically unheard of. Hug Life Ice Cream is looking to change that. They're a local ice cream parlor that offers a full spectrum of vegan flavors that go way beyond strawberry and vanilla. Get a classic cone to go, or try one of their delicious treats like ice cream sandwiches and brownies a la mode!

Their flavors include Thai tea, mango chamoy, Vietnamese coffee, and much more. Every flavor in their store is made from non-dairy ingredients, so they can be enjoyed by vegans and lactose-intolerant people alike. Their recipe is so rich and creamy that you won't even notice the difference!


4. Long Beach Creamery
If it's got "Long Beach" in the name, it must be good, right? Long Beach Creamery sells take-home pints of ice cream that are made from fresh, natural ingredients. What separates Long Beach Creamery from other stores is its unique, one-of-a-kind flavors. Stop in and grab a pint of cashew fennel chip, midnight oolong, Mexican vanilla, honeycomb, Camemberry, or peach cobbler. They use unusual ingredients like tea, herbs, and Camembert cheese for a truly distinct treat.

Not an ice cream fan? They also sell a range of delicious baked goods, including slices of cake and take-and-bake cookie dough.


5. Frostbites Crepes and Frozen Delights
When's the last time you had a cool, refreshing Italian ice? These rainbow-colored treats capture the essence of summer with their layers of fruity flavor. Mix in as many flavors as you want and enjoy a delicious frozen treat as you walk along the beach. You can also buy frozen custard with sundae toppings, or make it a meal with their sweet and savory crepes.

Want to customize your treat even further? Order a sorbet cream sundae that combines refreshing Italian ice with cold, creamy ice cream. Or try a sorbet cream cafe that combines Italian ice and ice cream with freshly brewed coffee.