Top 5-Star Restaurants in Long Beach
Posted by Andy Dane Carter on Monday, August 24, 2020 at 7:48 AM
By Andy Dane Carter / August 24, 2020
Comment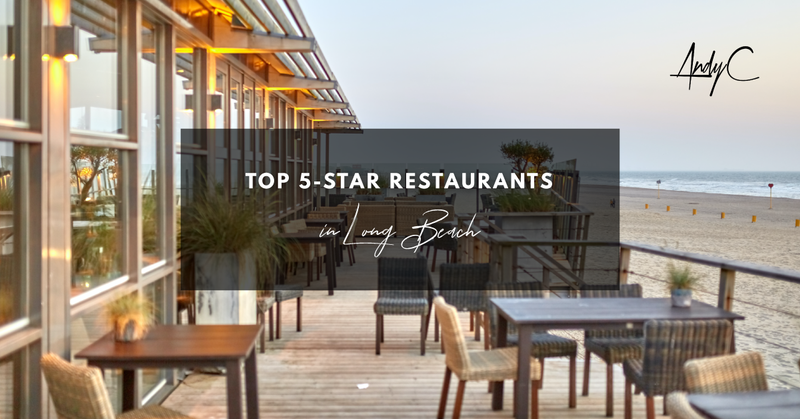 Long Beach is the second-largest city in Los Angeles Country that is often underrated and overlooked. However, this city has many things to offer to its residents and guests, including stunning beaches, vibrant nightlife, and a great variety of restaurants. For all gourmets and foodies, we have prepared the list of the top 5-star restaurants in Long Beach.

The Sky Room
This restaurant is located on the roof of one of the hotels and boasts spectacular views, which is a calling card of this place. It is also famous for its extensive collection of wine - there are over 18,000 wine bottles in the restaurant's cellar. The Sky Room specializes in seafood and offers salmon, sea bass, oysters, clams, and others. You should not also miss its vast dessert menu with ricotta cheesecake, creme brulee, bread pudding, and sorbet.

The Attic
Whether you decide to have brunch, lunch, or dinner, you will definitely find something you like on its Southern menu. The restaurant located in the old Craftsman-style house is a unique and fun place for social gatherings and dates. The most famous dish on the menu that everyone should try is Mac N Cheetos that includes six macaroni and cheese offerings served with hot Cheetos on the top. If you come to The Attic at brunch, you have a chance to try the national dish shrimp and grits, chicken and waffles, eggs Benedict and omelets.

3. 4th and Olive
If you want to feel and experience the atmosphere of the French Countryside, then you should dine in this popular restaurant. Its seasonally-changed menu offers unbelievable and delicious dishes inspired by the Alsace region located in north-eastern France. They use only organic and fresh produce, hand-selected ingredients, and high-quality meat. The restaurant also has a great breakfast and brunch menu with such dishes as German pancakes, smoked salmon toast, and house-made sausages.

4. Michael's On Naples
Many people come to Michael's On Naples not only for its fine cuisine, but also for a laidback, elegant, and fancy atmosphere. The restaurant located on 2nd street, a little bit away from the hustle and bustles, which made it popular among those who prefer to eat in a quiet and peaceful atmosphere. All dishes are made with only fresh ingredients and are based on the unique recipe. The culinary team of the restaurant believes that everything should be made from scratch, which makes the menu of this place so unique. Here you can try such exquisite dishes as Zuppa di Pesce, shrimps, mussels, octopus, sea bass in the lobster broth, and a soup with clams. Michael's On Naples also has a rooftop - the best place to relax and enjoy the sunset or the night sky full of stars.

5. Beachwood BBQ & Brewing
This restaurant with a few locations in other towns, including Huntington Beach and Seal Beach, is famous for its delicious BBQ food. Being a very traditional place, it offers slow-smoked, dry-rubbed, and well-seasoned meats that produce the best flavor. Gourmets like this place for a variety of the sauces: they are all on the table, so you can pick the flavor you like most. Only in Beachwood BBQ & Brewing, you have an opportunity to try so many different traditional meat dishes, including pulled pork, smoked ribs, and brisket. If you want to try something unique, you will not be disappointed because there are some unusual options as well, including alligator gumbo, duck, and chili made from the burnt ends of the brisket. It is also a favorite place among beer lovers: it offers a great variety of craft beers.

Long Beach is a great city to visit and experience, especially if you are gourmet who likes to taste new things. There are plenty of restaurants to cater for every taste and pocket. Therefore, if you want to experience Californian kitchen and atmosphere, Long Island is the place to be.