Top Date Night Activities You Can't Miss Out On In Long Beach
Posted by Andy Dane Carter on Monday, September 14, 2020 at 8:28 AM
By Andy Dane Carter / September 14, 2020
Comment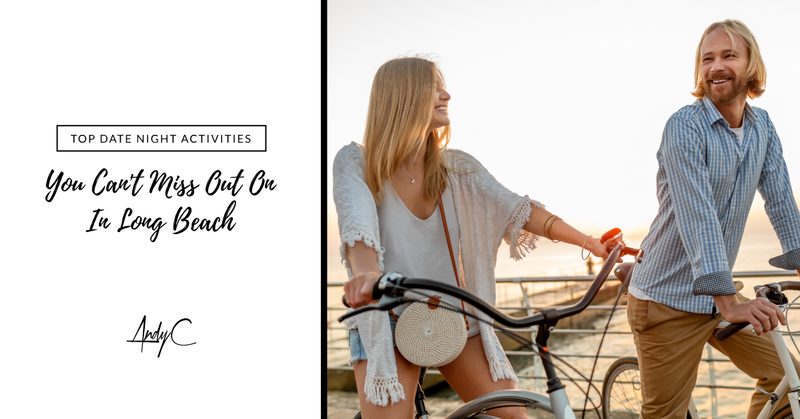 If you are looking for fun places to take your date in Long Beach, California, you have come to the right place. The city has so many date night activities for couples, from elegant ship tours to art museums.

Here are the top date night attractions in this amazing city.

Rosie's Dog Beach

If you guys are dog lovers, Rosie's Dog Beach is a great place to spend a relaxing and romantic evening. Named after a local celebrity's dog known as Rosie the English Bulldog, this multi-acre waterfront attraction will have you feeling so in love. Although this special dog paradise does not have fences to mark the fun play area, the lovely "Dogs at Play" sculpture confirms that you're in the right spot. Over the past ten plus years, the park has been opened for love birds from 6 AM to 8 PM every day. The only dog park is only closed for a special event and occasional cleaning. Rosie's Dog Beach is also the only beach in Los Angeles, California, that allows dogs to legally be unleashed.

Earl Burns Miller Japanese Garden

Set beautifully on the campus of California State University, the Earl Burns Miller Japanese Garden is a romantic spot for couples. During your visit here, you'll be able to walk hand-in-hand with your special person while being surrounded by beauty. The Earl Burns Miller Japanese Garden features lovely waterfalls, birds, bamboo, amber trees, flowers, a glistening lake, and so much more. The garden is definitely a relaxing spot to connect with your date in a meaningful way. Loraine Miller Collins founded the garden as a place of refuge for anyone who enters its gates.
El Dorado Nature Center

At El Dorado Nature Center, you'll be able to take a break from the busy city and enjoy a romantic date night. The site is home to many plants and animals as well as a lovely lakefront path. Starting at the visitor center, grab your date's hand and walk two miles down a dirt trail that will take you through beautiful forested areas. When you come to the lakes and stream, stop to take a picture with your date. Once you guys finish walking down the lakefront path, step inside the visitor center to see an art gallery and informative displays. Maybe even buy your date an environmental-friendly gift at the small gift shop.

Long Beach Museum Of Art

The Long Beach Museum Of Art is a hidden date night gem that boasts incredible views of many picturesque sites including Queen Mary, Catalina Island, and the Pacific Ocean. The museum prides itself on keeping its couples entertained with a wide variety of interesting exhibits. The site also features beautiful oceanfront gardens, making it a great place to get some Instagram-worthy photos with your date. After your visit here, take your date to the museum's oceanfront restaurant known as Claire's. If you time it right, you and your date may be able to enjoy a special event, educational program, or festival at this popular museum.

Queen Mary

Queen Mary is a popular tourist attraction that many couples find enjoyable. While onboard this elegant ship, consider taking your date on the The Glory Days Tour or Haunted Encounters Tour to gain an in-depth understanding of this iconic vessel. Queen Mary also offers several eating and drinking spots where you can enjoy five-star dining, beautiful sunset views, and/or exclusive wines. For a true nautical experience, spend the night aboard this luxury ship in one of its original suites. Make sure to keep in mind that Queen Mary also has fun comedy nights and wine-tasting dinners available to couples throughout the year.

Aquarium of the Pacific

The Aquarium of the Pacific is dedicated to offering its visitors many unique education and entertainment opportunities, which makes for an extremely exciting date night. The aquarium features several exceptional exhibits including the coral reefs, shark lagoon, tropical pacific gallery, sea otter habitat, and many more. Here are some additional highlights that you and your date don't want to miss: An immersive theater, the ocean science center, and the Molina Animal Care Center. Aquarium of the Pacific is definitely a great attraction for couples who have an interest in animals.

Catalina Island

One of the great things about Catalina Island is that it offers something for every type of couple. If you and your date enjoy adventure, consider going on a zip line eco-tour or a sea life safari excursion. For couples who enjoy relaxing activities, Habor Sands is a great spot to eat, drink, and soak up the sun. Couples can even enjoy an extended stay at this charming island by booking a luxury hotel. Trust the Catalina Express to get you guys to Catalina Island safe and sound.